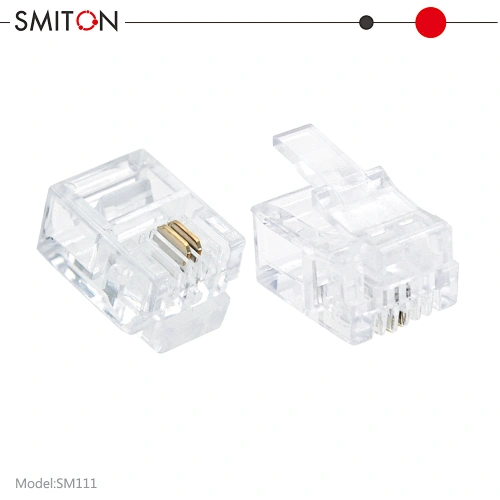 Telephone Modular Plug RJ11 6P2C Connector for Phone Line Cord
price
USD0.01 - USD0.03 / pieces
Style of connector: RJ11 6P2C Male plug (6 Position 2 Conductor)
Material of Housing: Durable Plastic PC,transparent
Material of pins: Copper 
Better mechanical and electrical
performance than 2 prong type
Easy to be crimped and will hold the wires
more tightly after crimping Useful life: More than 750 times
1000 pcs per bag
Make the telephone cable using this plug. Gold plated contact leads for better data transmitting and higher signal strength.

Telephone Modular Plug. The plugs offer support for phone,fax or voice applications in home or office abling systems.
[Parameters] A pack of 100 RJ11 (6P2C) modules plug, suitable for voice communication, six pins, transparent color.

[Compatibility] This connectors can be applied to telephone lines and widely used in home or office cable systems.

[Performance] Modular jack has clear plastic housing with pins purity of copper wire higher than 99.99% for Fast and accurate data transmission.  gold plated pins provide better contact and transmission performance.

[Convenience] Just make sure they are in the correct order before crimping the plugs, compatible with most styles and models of RJ11 crimping tools.