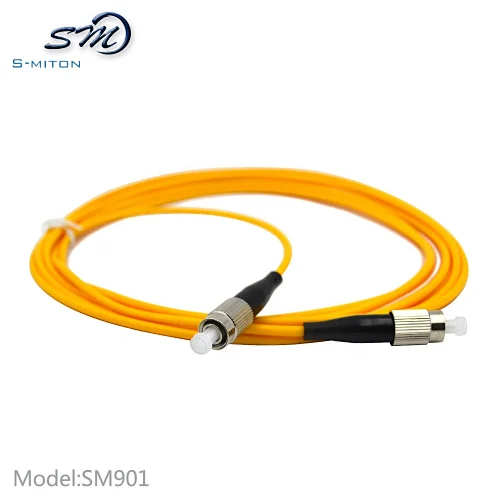 PVC FC FC 3 Meter Optic Fiber Patch Cord Single Mode - SIMPLEX
Place of Origin:CN;GUA
Brand Name:SMITON
Model Number:SM973
Product name:2 Mode 2 Core Orange PVC LC to ST 3 Meter Optic Fiber Patch Cord
Type:LC to ST
Color:Orange
Material:PVC
length:3m
Certification:CE
Application:Network
Fiber Type:Multi Core Multi Mode
packing:1pcs/bag
Fiber Diameter:3.0mm
FC to FC UPC Optical Fiber Patch Cord  Single Mode .
APPLICATION:.
•Smiton's optical fiber patch cord used as cross-connect jumpers, equipment and work area cords in fiber 0ptic telecommunications and FTTH (Fiber To The Home);CATV & CCTV;Data Processing Networks

•Mechanical
Connector ferrule: ceramic
End-face radius of curvature: 10 mm < R < 30 mm
Apex offset: < 50 μm
Cable material: PVC 
Operation temperature: -20 °C to +70 °C



Can I have my own logo on the products?
Yes, you can put your logo on the products with a required order quantity. Please just send us the information of your Logo.
Your products meet CE/ROHS requirements?
Yes, the goods with CE/ROHS certification approved to hold quality assurance.
What makes you different with others?
1)S-miton Excellent Service
For a quick, no hassle quote just send email to us,S-miton promise to reply with a price within 24 hours
If you need an advise, just call our export office at 0086 755 83742317, we will answer your questions immediately.
2) S-miton quick manufacturing time
For Normal OEM orders, we promise to produce within 25-30 days.
As a manufacturer, we can ensure the delivery time according to the formal contract.
The effective purchasing and production departments enable us to delivery the goods in time and after-sales services departments will promise that try our best to solve all problem within 24 hours..