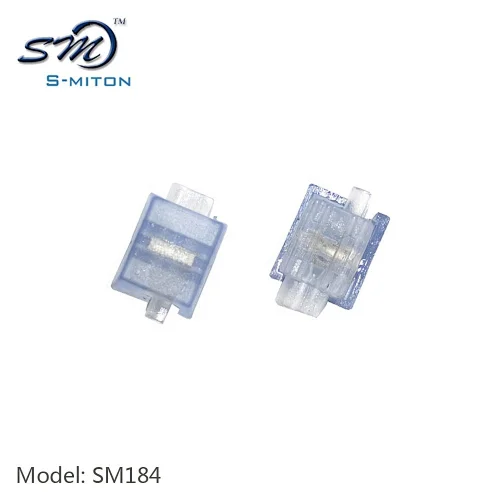 Scotchlok Blue Tap Connector ub2a- 0.082 in Max Insulation Outside Diameter
Place of Origin:CN;GUA
Type:Crimp Terminal
Brand Name:S-MITON
Model Number:SM184
Product name:UB2A Wire Connector
Material:Polycarbonate
Gender:Famale
Application:Power, Telephone wiring connection
Feature:Insulation Displacement connection
Color:BLUE
Usage:Connecting Cable
Surface treatment:jelly
Details:0.4-0.9mm
Whatsapp:0086 13410895304
UY UY2 UKF UG UR UR2 UB2A UB B U1B Wire Connector
It is applied to telephone wiring connection. The butt connector is designed for 0.4mm-0.9mm solid copper cables with max insulation diameters 2.08mm. 

The connector is filled with a moisture resistant compound in order to provide moisture proof connections.The connector can provide total environmental sealing around IDC-contacts.

Features:
1)Used to connect two wires safely and rapidly with moistureproof;

2)Uapplied to the conductors with inner diameter of 0.4-0.9mm;

3)All materials used in the connectors shall be non-toxic and dermatological safe;

4)UY2 connectors should be used for wires with external coat up to 1.80mm in diameter; 



Can I have my own logo on the products?
Yes, you can put your logo on the products with a required order quantity. Please just send us the information of your Logo.
Your products meet CE/ROHS requirements?
Yes, the goods with CE/ROHS certification approved to hold quality assurance.
What makes you different with others?
1)S-miton Excellent Service
For a quick, no hassle quote just send email to us,S-miton promise to reply with a price within 24 hours
If you need an advise, just call our export office at 0086 755 83742317, we will answer your questions immediately.
2) S-miton quick manufacturing time
For Normal OEM orders, we promise to produce within 25-30 days.
As a manufacturer, we can ensure the delivery time according to the formal contract.
The effective purchasing and production departments enable us to delivery the goods in time and after-sales services departments will promise that try our best to solve all problem within 24 hours..