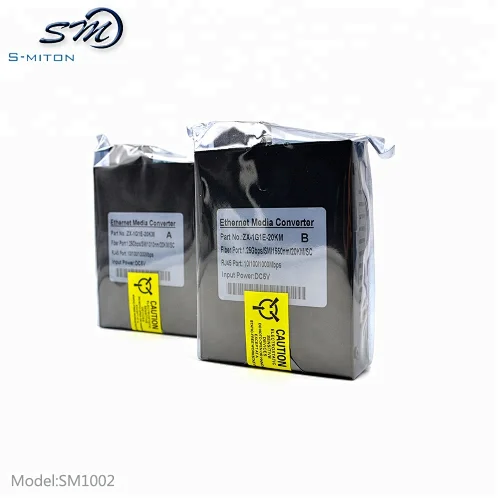 SC 10 100 1000 fiber media converter 1310nm 1550nm 20KM
price
USD28.00 - USD40.00
Place of Origin:CN;GUA
Model Number:SM1002(Media Converter)
Brand Name:SMITON
Product name: Optic Fiber Media Converter
Type:SC
Color:Black
Certification:CE ROHS
Distance:20KM
Fiber Type:Single Fiber Single mode
Dimensions:95*71*26MM
Power Output:5V DC 2A
Operating Temperature:0 °C to +70 °C
Gigabit Single fiber BIDI Optic Media Converter 1310nm/1550nm 20KM.
APPLICATION:.
•Media Converter Gigabit media converter with external power supply are designed to transmit and receive 10/100/1000Mbps data over optical fiber. The electrical interface will Auto-Negotiate to a 100Mbps or 1000Mbps Ethernet rate without any adjustments. The optical interface operates at a 1000Mbps Ethernet rate. Both are environmentally hardened to operate in extreme temperatures. LED indicators are provided for confirming equipment operating status.



Can I have my own logo on the products?
Yes, you can put your logo on the products with a required order quantity. Please just send us the information of your Logo.
Your products meet CE/ROHS requirements?
Yes, the goods with CE/ROHS certification approved to hold quality assurance.
What makes you different with others?
1)S-miton Excellent Service
For a quick, no hassle quote just send email to us,S-miton promise to reply with a price within 24 hours
If you need an advise, just call our export office at 0086 755 83742317, we will answer your questions immediately.
2) S-miton quick manufacturing time
For Normal OEM orders, we promise to produce within 25-30 days.
As a manufacturer, we can ensure the delivery time according to the formal contract.
The effective purchasing and production departments enable us to delivery the goods in time and after-sales services departments will promise that try our best to solve all problem within 24 hours..